GROUP TRAVEL OFFER, MIN 6 PAX, KNOW THE ISLAND IN NINE DAYS, FROM € 699, ONE ISLAND 5 DESTINATIONS, FROM THE TRANQUILITY OF THE FIELD TO THE CITADINE ANIMATION, FROM THE ENCHANTMENT OF THE ANCIENT TO THE MODERNITY

CUBA: DISCOVERY NEW PATHS.
Cuba is identified by its beaches, the tobacco and the sauce, we offer all this and more because Cuba has other wonders to offer. Discover the beautiful mountain landscape in the western region of the country, its guajiros (farmers) who settled in small farms isolated from the world and especially from everyday life. Do not miss exclusive places in the central region of the island, suitable for relaxation and far from the classic routes. A perfect circuit for those who want to leave the island with a more complete image. A stay where each step is designed so that you have the tranquility and peace that can only be maintained by moving away from the usual tourist routes.
DAY 1. Arrival in Havana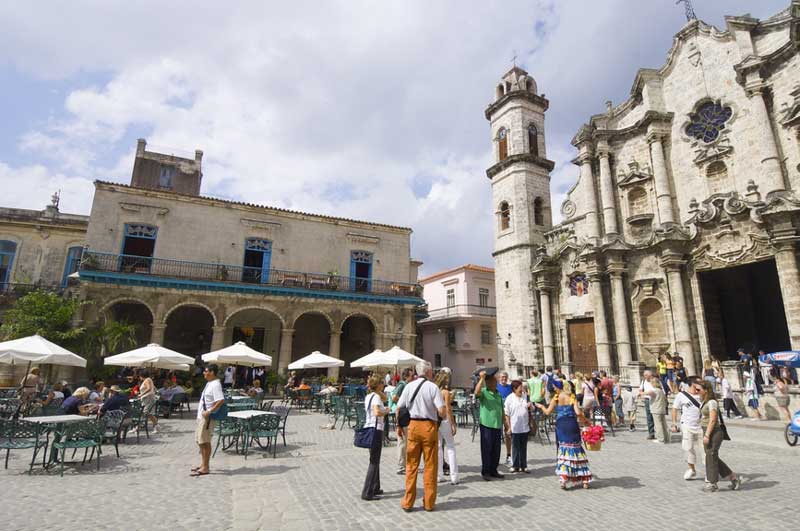 Welcome to the airport of Havana. You will be welcomed by our driver and taken to a private house in the center of the city.
Night in Casa Particular in Havana in plan BB
Day 2. Havana: Visit the capital of all Cubans
Breakfast.
At 9 am. You will have an Information Meeting with your local agent or with your Spanish guide at the Casa Particular.

9:30 am visit on foot through the historic center of Old Havana with its beautiful colonial squares, streets and museums accompanied by your Spanish guide for three hours. At the end of the tour you will have a lobster lunch at a local restaurant.

At 14h ride in classic American cars of the 50s. During this walk you can see most of the modern sites and enjoy one of the most beautiful views of the city along the 7 kilometers of the Malecon.

Rest of the afternoon free and at 9:30 pm you will enjoy a wonderful show at the Café Taberna where you can listen to good Cuban live music from Buena Vista Social Club. This place is dedicated Benny More "el sonero mayor".
Night in Casa Particular in Havana in plan BB.
DAY 3. Cienfuegos, the French city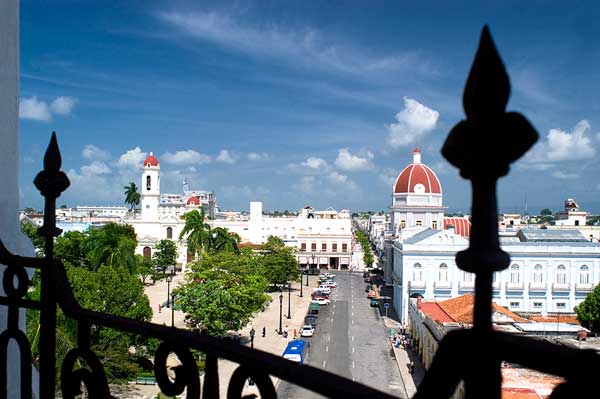 Breakfast. 8:00 am. Departure to Cienfuegos by private minibus. 275 kilometers,
Departure at 9 am accompanied by your guide and your driver and they will pick you up at your accommodation.

During this day you will discover Cienfuegos, which is known as the most French city in Cuba. It is a very elegant colonial city with a rich historical center, with monuments and palaces and you will also stroll along the longest pedestrian promenade in Cuba.

In Cienfuegos you will visit the famous Tomas Terry theater and the Palacio de Valle and stroll along the boulevard to reach the central plaza.

Lunch will take place at the Marinero restaurant at Club Cienfuegos, which offers excellent views of the bay with a typical cocktail in hand.
Night in Casa Particular in Cienfuegos in BB plan
DAY 4. Trinidad, charming city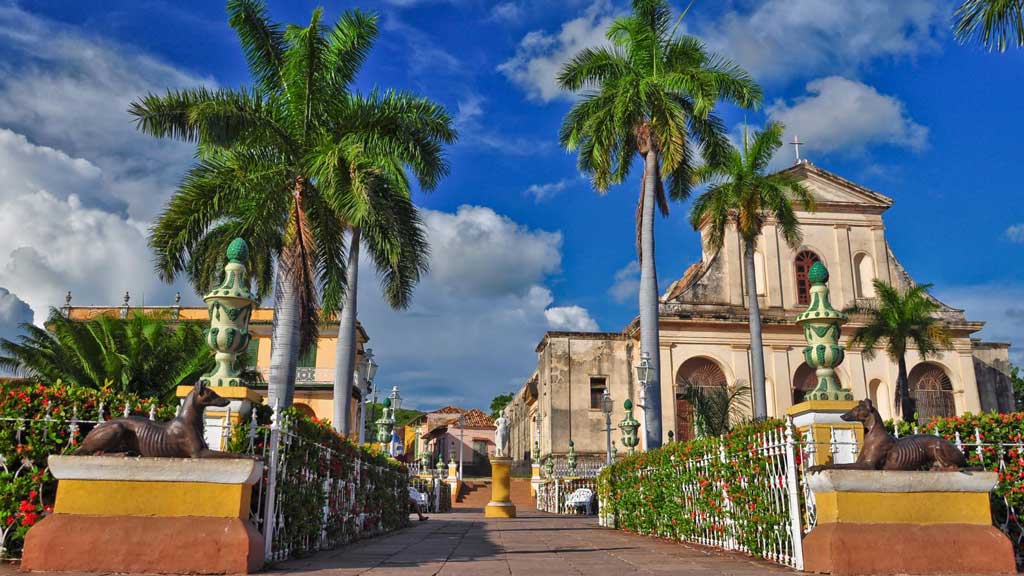 Breakfast. Departure to Trinidad by private minibus. 85 kilometers, approximately 1 hour.

On the morning before leaving for Trinidad, you will visit the Guanaroca Lagoon with its unique flamingos, tocororos and pelicans that will arrive near your boat, an incomparable experience.

Then you will make a brief stop at the Botanical Garden of Cienfuegos where you will find the third largest reserve in the world in the Tropical Garden category.

Continuation of the trip to Trinidad, a surprising colonial city declared a World Heritage Site by UNESCO and known as an "open-air museum" city. You will love walking through its cobblestone streets.
Night in Casa Particular in Trinidad in plan BB.
DAY 5. Trinidad
Breakfast.

In the morning, visit on foot with a guide for 3 hours. You will have the opportunity to visit museums, its traditional market and its beautiful Plaza Mayor, with a short break to enjoy a typical cocktail at La Canchánchara bar.

In the afternoon, visit the Valle de los Ingenios, (valley of the old sugarcane plantations) and pass by El Mirador de La Loma del Puerto, this viewpoint, at 192 m, will offer you a splendid view of the valley. With any luck, you will see a steam train with a cloud of smoke passing through it. Then you visit the Iznaga Tower, you must climb its 184 steps to reach the top.

At night you will have the opportunity to dance in the "Casa de la Trova" or stairs.
Night in Casa Particular in Trinidad in plan BB
Day 6. Playa Larga
Breakfast. Departure to Playa Larga. 220 km approximately.

Departure to Playa Larga, beautiful beach on the way to Playa Girón, with its small fishing village where the flora and fauna are of great wealth, ideal for underwater diving, snorkeling and numerous activities to your liking.

Visit to Guamá, the Taino village and the crocodile farm.

Take the opportunity to enjoy a delicious lunch in Caleta Buena where you will also have free time to bathe or snorkel.
Night in private house in Playa Larga in BB plan
Day 7. Viñales
Breakfast. Exit towards Vinales.450 km approximately.

You will head towards the land of tobacco, Viñales, where there are splendid views that are also rare, and you will be able to interact with the most friendly people of Cuba, all this will make your stay unforgettable.

Upon arrival they will take a horseback ride through the valley and will be introduced to the daily life of this unique town.
Night in Casa Particular in Viñales in plan BB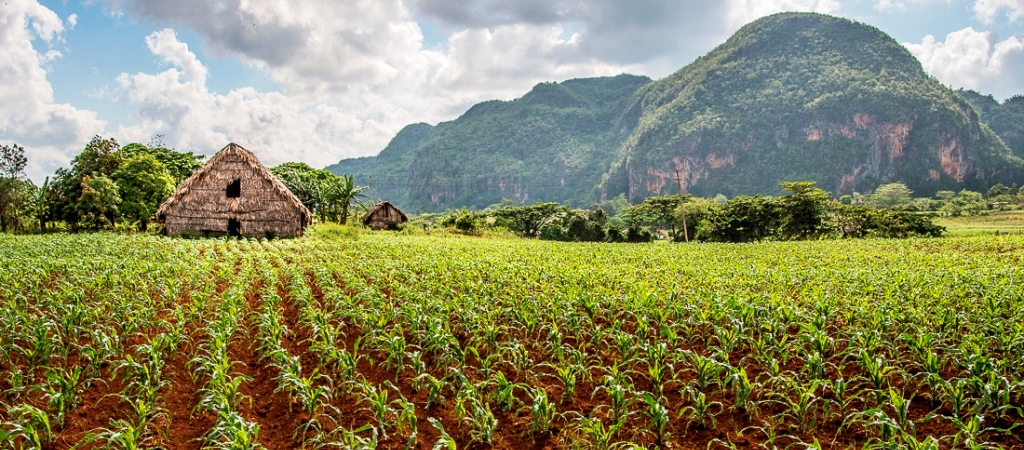 DAY 8. Viñales and its beauties
Breakfast.

At 9 am guided walk in the Valley of Viñales, a day dedicated to the discovery of unique landscapes. You will visit farms and local plantations, as well as tobacco dryers. You will know the tobacco process. Depending on the time of year you will see sowing, planting, harvesting, drying or despalillo. At the end of the tour you will have a typical Cuban lunch at an agroecological farm with anti-stress cocktail tasting.

Departure in the afternoon towards Havana.
Night in Casa Particular in Havana in plan BB
DAY 9. See you Cuba!
Breakfast.
The morning is yours to enjoy the last hours on Cuban soil. Enjoy a stroll along the boardwalk and the music of a bohemian guitarist while saying GOODBYE!
A private driver will pick you up at the Casa Particular 3 and a half hours before the time of your departure flight.
Good return!
TRAVEL EXPENSES

Minimum 6 PAX
Max 12 PAX

€ 699 / PER PERSON IN DOUBLE ROOM
€ 138 / SINGLE ROOM SUPPLEMENT

€ 348 / SUPPLEMENT 3 NIGHTS ALL INCLUSIVE HOTEL IN VARADERO

These prices include:
Private transfer to and from Havana airport.
Driver available and minibus from day 3 of the program to day 8
Bed and Breakfast in private homes throughout the tour.
Lunch at a local restaurant in Havana
American car ride.
Show at the Café Taberna.
Visit to the Terry Theater and Valle Palace
Lunch at the Marinero restaurant of Club Cienfuegos.
Visit to the Guanaroca Lagoon
Visit to the botanical garden.
Cocktail in Bar la Canchanchara.
Visit to the Iznaga Tower and the Valley of the Sugar Mills.
Visit to Guamá, the Taino village and crocodile farm.
Lunch in Caleta Buena.
Horseback riding in Vinales.
Hike in the Vinales valley and lunch in agroecological farm.
Our 24 hour assistance

These prices do not include:
Your plane ticket.
Visa or tourist card.
Free meals or not mentioned in the program.
Drinks at meals (except at the all-inclusive hotel).
Tolls
Travel and repatriation insurance.
Optional tours described in the program.
Tips for local guides and workers.
In restaurants it is customary to leave 10% of the tip bill if it is not included in the price
For the guided tours guide of 4-5cuc per person.
For the Driver-driver of 2-3cuc per day per person.

Estimated cost of a meal in Cuba: 8-20 CUC / person.
Estimated cost of drinks in Cuba: 0.50 -5 CUC / person.
Estimated cost of a night out in Cuba: 5-30 CUC / person.
Estimated cost of entry to museums and heritage sites in Cuba: 5-9 CUC / person.
Reservation condition:
To confirm your reservation you must pay a deposit of 30% of your trip, either by bank transfer or by credit card.
The balance of your trip must be paid at least 60 days before departure.
Due to a strong influx of tourists to Cuba and lack of availability, we recommend you to organize your vacation at least 75 days in advance to ensure your reservation and availability.
ATTENTION: In case of changes in the money exchange rate, the local agency reserves the right to change the price of the trip up to 30 days before departure.

ATTENTION: Rates valid for the selected dates may, however, increase at the time of booking depending on the tourist season and local holidays (Easter, July, August, December and January).

ATTENTION: If it is necessary to confirm the services (hotels, car rental, restaurants, shows, etc.) of a higher category than the one mentioned in the program for reasons internal to the country of availability or overbooking, the agency reserves the right to modify Rates up to 30 days before departure.

Cancelation conditions:
All cancellations must be sent by email to the local agency. The amount of the cancellation fee varies depending on when you cancel:
More than 30 days before departure: 5% of the cost of the trip
Between 30 and 22 days before departure: 25% of the cost of the trip
Between 21 and 8 days before departure: 50% of the cost of the trip
7 to 3 days before departure: 75% of the cost of the trip
Within 3 days of departure and after departure: 100% of the cost of the trip