CIRCUIT DETAILS

Day 1: Hola Habana!

Arrival at Jose Marti airport in Havana. A driver of our company will be waiting to transfer you to a private house in the center of the city.

Night in private house.



Day 2: Havana: visit the capital of all Cubans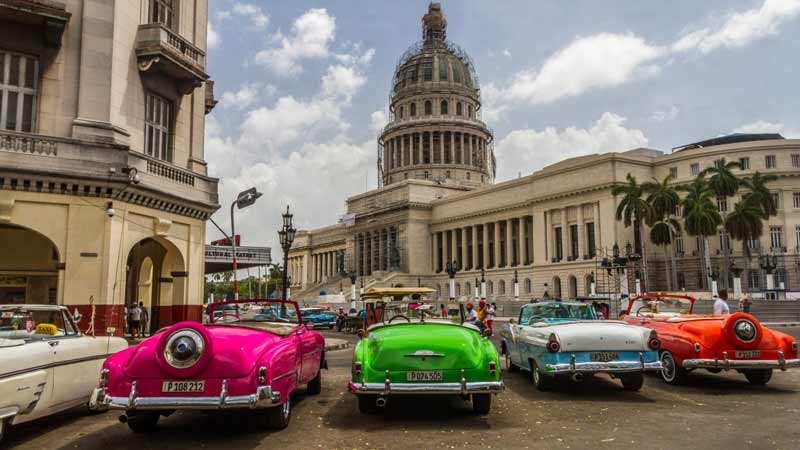 9.00 am Information meeting with your local agent. Then we will travel through Old Havana accompanied by a guide who will show you the beautiful colonial squares, streets and museums of Havana's historic center. In the afternoon you will stroll in a beautiful 50's American car for 2 hours touring the 7 km long Malecón Malecon and visiting places like Revolution Square, La Rampa, Avenida 23 and the National Hotel. In the evening we recommend visiting the Morro, fortress located at the entrance of the Bay of Havana, and its ceremony known as El Cañonazo de las 9.

Night in a private home



Day 3: Havana-Viñales-Havana

After breakfast, at 7:00 a.m. Will be greeted by a driver and his beautiful American car for a round trip to Viñales. During the trip, there will be a brief stop at Mirador Los Jazmines to enjoy a privileged view of the beautiful valley. At 10:30 a.m. A guide will await you at Plaza Viñales for a walk through the valley. This walk will allow you to enjoy the infinite beauty of the valley and mountains as well as live closer to the nature and traditions of the peasants and the exceptionality of an incomparable landscape. Typical Cuban lunch at the internationally recognized Agro-ecological farm or farm (included). Return to Havana.

Time of travel: Havana -Viñales -La Habana (410 KM, approximately 3 hours).
Night in a private home



Day 4: Cienfuegos: the Pearl of the South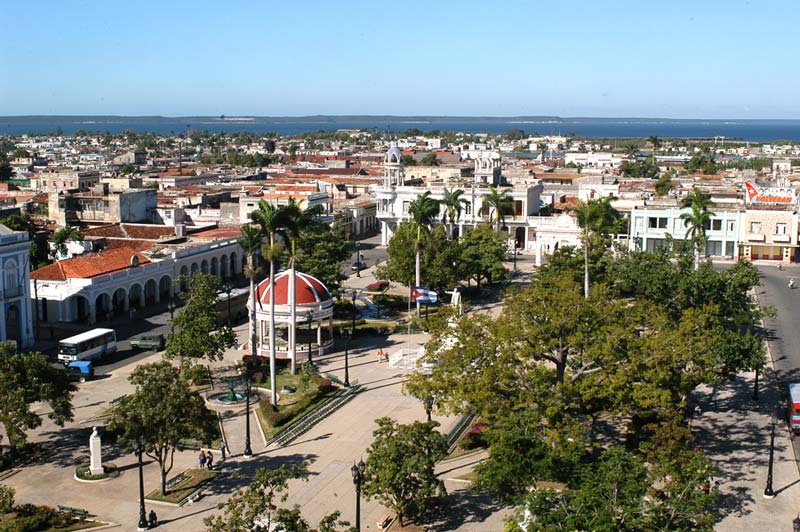 Departure to Cienfuegos accompanied by your driver and guide / o / Pick up of rental car (schedule and place to be defined according to availability). This will be the longest trip that will do until the moment but will have the possibility of getting in touch with Cubans and their daily life when traveling on their highways. This day you will discover Cienfuegos, the Pearl of the South and known as the most French city of Cuba since it was founded by French. We suggest the following activities: visit to the Tomás Terry Theater and the Palacio de Valle.



Time of the trip: Havana - Cienfuegos (260 km, 4 h)
Night in a private home



Day 5: The Guanaroca lagoon and its flamingos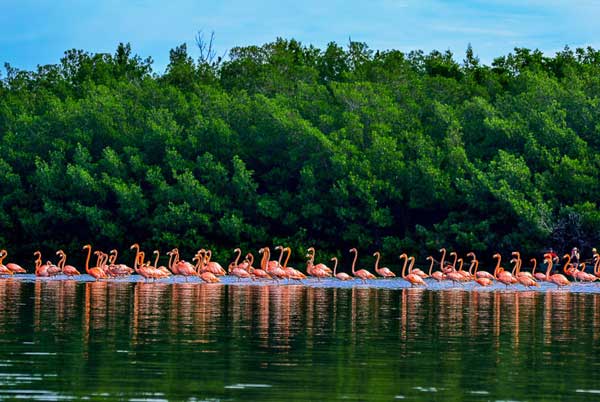 After breakfast and early in the morning departure to the unique Guanaroca Lagoon for its amazing view and direct contact with nature surrounded by flamingos, cormorants and pelicans. Visit also the Botanical Garden the third largest in the world in the category of Tropical Garden. Then you will continue your trip to Trinidad where you will be staying in a private house.



Time of travel: Cienfuegos-Trinidad (85 KM, about 1 hour)
Night in a private home



Day 6: Discover the city Museum: Trinidad

Discover an unparalleled colonial city declared by UNESCO as a World Heritage Site and known as the Open Air Museum City. You will have free time to visit its museums, its traditional market and its beautiful Plaza Mayor. At the end of the tour you can taste a typical Cuban cocktail in the Canchánchara bar.



In the afternoon you will visit El Valle de los Ingenios (Valley of the sugar cane mills) and El Mirador de la Loma del Puerto which at 192 m will offer a splendid view over the valley. Then you will visit the Iznaga Tower where you must climb its 184 steps to reach the top. In the evening you will have the possibility to dance in the "Casa de la Trova" or stairs.

Night in a private home



Day 7: Cayo Blanco and its iguanas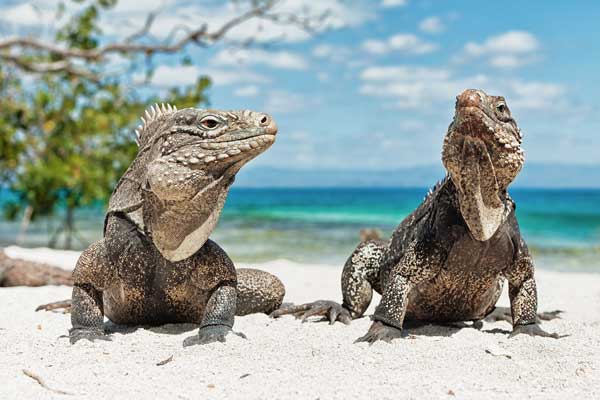 After breakfast you will leave for Marina Ancón. At 9 o'clock You will begin a catamaran adventure to the cays of the Caribbean Sea. During your stay in Cayo you can do diving activities and you will have free time to enjoy the beach. Seafood lunch included. Return to Trinidad in the afternoon. Free afternoon.

Time of travel: Trinidad-Marine-Ancón Trinidad (20 km, 15 min).
Night in a private home




Day 8: Remedies and their two churches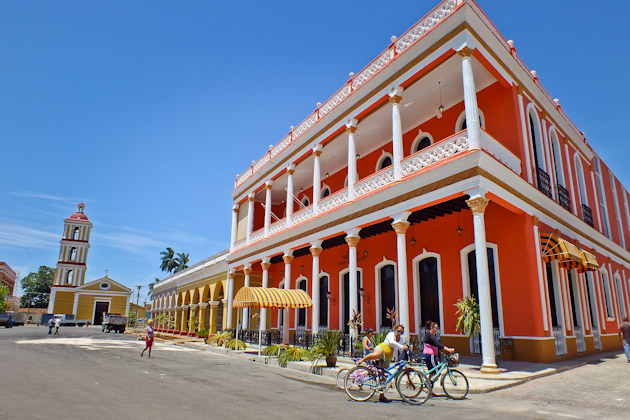 Breakfast. Departure to Cayo Santa Maria. On the way there will be a stop in the city of Remedios, the 8th villa founded by the Spaniards in Cuba. Visit to the Parochial Church of San Juan Bautista, where there is a sculpture of the Immaculate Conception with 7 months of pregnancy, cataloged among the most unique religious treasures of America.

Time of travel: Trinidad- Remedios (200 km, 3h30 min approximately)
Night in a private home
Day 9: Cayo Santa Maria: dream island!


Departure to Cayo Santa María. Installation at the hotel. Enjoy the beautiful beaches of Cayo Santa Maria! Many activities are offered: swim with dolphins, snorkel, scuba, catamaran, salsa classes ... You can choose!

Travel time: Remedios -Cayo Santa María (55 km, approximately 40-45 minutes)
Accommodation at the all-inclusive hotel Playa Cayo Santa María or equivalent (if available).
Day 10: Hasta la vista Cuba!

Departure in direction to the airport of Havana. Have a good return to your country and come back soon!

Time of travel: Cayo Santa Maria- Havana (400 km, approximately 5 hours)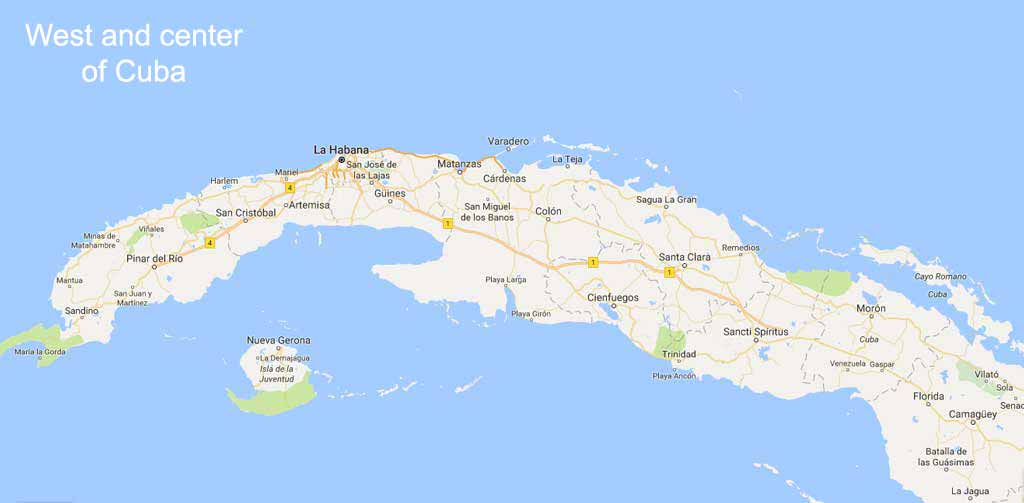 Prices:
| | | | |
| --- | --- | --- | --- |
| | 2 persons | 4 persons | 6 persons |
| Price per person + GUIDE CHOFER | 1358 € | 1082 € | 925 € |
| Price per person + RENTED CAR | 925 € | 751 € | - |
This price includes:
All transfers mentioned.
Accommodation and breakfast throughout the circuit.
Meals mentioned in the program.
Guide driver / o / Rented car, manual transmission, unlimited mileage from day 4 to 10.
Our assistance 24h / 24.
The following activities: City tour Old Havana, American carriage ride 1h Visit to the Mirador los Jazmines, Valle Viñales hike, visit to Terry Theater and Valley Palace, Guanaroca and Botanic Garden tour, Trinidad city tour, typical Cuban cocktail in the bar Canchánchara, Visit to Iznaga Tower

This price does not include:
Airplane ticket.
Cost of tourism visa.
Free meals or not mentioned in the program.
Drinks at meals (except the hotel's all-inclusive)
Péages.
Travel and repatriation insurance
Optional visits suggested in the program: Excursion to Cayo Blanco,
Tips for guides and local workers
In case of car rental:
Deposit (deposit will be refunded at the end of the trip) - 200 CUC.
Rental car insurance 15-25 cuc / day.
Additional driver: 3 CUC Rent / day.
Drop Costs
Gasoline
* If you select the driver option available all these expenses are included.
Usual tip for the guide and / or driver between 2 and 3 cuc per person per day (optional)